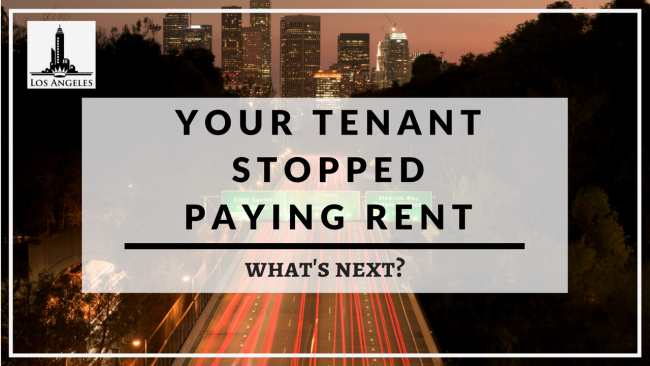 When you're placing a tenant in your property, you're looking for someone who will take care of the home, pay rent on time, and follow the terms of your lease agreement. One of the best ways to avoid evictions and late-paying tenants is with thorough tenant screening. However, sometimes even the best tenants have financial setbacks, and rent doesn't show up when it's supposed to. We have some tips on what to do if a tenant stops paying rent.
Contact the Tenant
Your first step is to do a little investigating and find out what's going on. Perhaps your tenant simply forgot to make the payment or is running a few days behind with bill payments because of an unexpected expense. Reach out to your tenant with a reminder that rent is late.
Provide Written Notice to the Tenants
When you cannot get in touch with your tenants and you don't have rent after you've tried to make contact, serve the tenants with a proper "3 Day Notice to Pay Rent or Quit". The proper format for this notice will be the topic for a further posting, and does bring with it certain required critical attributes. It should mention that you plan to pursue an Unlawful Detainer, which is the name of the formal lawsuit that serves the purpose to evict a tenant in California.
Filing Unlawful Detainer Forms
After the written notice, if you still don't have the rent payment or an arrangement in place, most owners will hire an attorney to prepare proper Unlawful Detainer paperwork.  Once served, the tenants will have a chance to respond.  If they don't and the case is uncontested, the timing of the entire matter should be much less than if the tenant answers and contests the eviction.  
Unlawful Detainer Hearing
If the tenant files an answer, your attorney will request a trial.  Know that you and your attorney can still negotiate right up until the court date to in order to avoid the appearance.  If you can't settle, you'll need to be prepared for court with all the relevant documentation such as your lease agreement, your initial notice, and a ledger or accounting statement that shows what the tenant owes. The court will issue a judgment, and assuming you win, the tenant will be required to vacate the property.
The eviction process in California can be time consuming and expensive. It's also complicated; there are several forms that need to be filled out perfectly. This is a tenant-friendly state, so we always recommend you get help from an experienced eviction attorney who knows the court procedures and can protect you and your investment. If you have any questions about Los Angeles property management or how to evict a nonpaying tenant, please contact us at Los Angeles Property Management Group.