L.A. Property Buying Scams — What to Know Before Purchasing an Apartment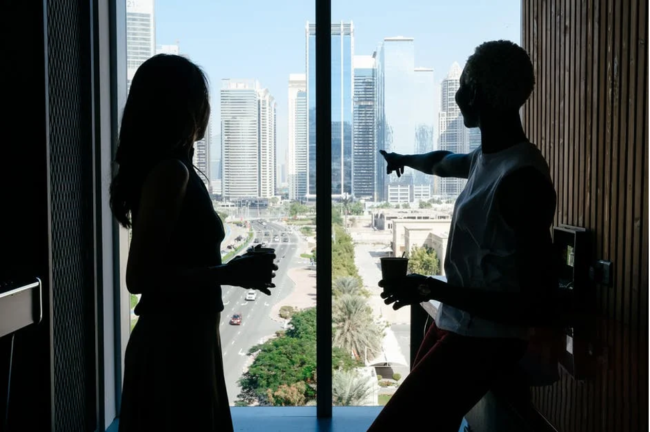 The FBI put out a warning to the public last year regarding real estate scams after a 64% increase from 2020 to 2021, notes CBS Los Angeles. For those looking to purchase a property such as an apartment, understanding the prevalence of such scams and what they entail can allow you to smoothly and successfully go about the property buying process. From the prevalence of scams that can be found in the city to the telltale signs to look out for, here's what you should keep in mind before searching for an apartment to buy.
Types of scams to be aware of
The colorful history of real estate scams in L.A. highlight the fact that they can come in many different forms. When looking to purchase an apartment, condo, or other type of property, there are several types of real estate scams to be aware of. To highlight just a few, these include real estate agent imposters, bogus listings, and fraud. Other examples involve:
Tech fraud. Other examples of real estate scams can be found in the form of wire transfer fraud, in which scammers use email to trick victims. According to abc7.com, a growing scheme involves scammers posting as brokers, and soliciting fraudulent down payments. "I had gotten an email that day — right around the same time that I was on the phone with the title company — and it [listed] instructions on how to send the wire transfer," Carly Andreatos told ABC News. Andreatos was days away from buying a new home — after following the instructions and completing the $24,000 wire transfer, she received a call from her closing company the next day, stating they'd never received the funds.
Scams involving the use of technology can be particularly prevalent, both in the real estate industry and beyond.  For example, such scams may involve 'tech support' workers claiming to be calling from well-known companies, in which they end up defrauding unsuspecting customers. Other scams may involve criminals who contact people pretending to be from banks. Social media can also prove to be a primary channel for many scammers, resulting in stolen money and financial information. This highlights the importance of awareness for individuals as well as those such as business owners who may need to enhance cybersecurity to protect their data and financial information. Regarding tech fraud, Paul Davis, Director of Fraud at TSB wrote "Industry data shows that 78% of this fraud starts online. We need social media and tech companies to show the same level of responsibility, investment, and protection as the banks are providing– so together we can win the fight against fraudsters."
Scammers selling other people's property and seller-impersonation scams. According to the Las Vegas Review Journal, a growing type of real estate fraud around the country involves scammers trying to sell other people's land behind their backs. "The notion of selling someone's property without them knowing might seem far-fetched. But attempting the scam isn't difficult, as fraudulent sellers may not initially be forced by anyone to prove they actually own the place."
CBS Los Angeles details the experience of local Jeorge Dance, who nearly had his property sold out from under him. According to CBS, Jeorge's neighbor, Maribel Munoz, looked out her kitchen window and noticed strangers scoping out the vacant lot next door (which is owned by Dance) when doing the dishes. A phone call to Jeorge revealed that he himself wasn't planning on doing any construction on the lot. While Jeorge dismissed the matter at first, Munoz, who is a licensed realtor, found the property listed for sale on Zillow.
"All property information, as far as title vesting, is all accessible, it's all public information, so there are people that know how to search for this information and how to obtain it, and from there all it takes is for a little bit of internet research to gain enough knowledge about that person to impersonate them," explained LAPD Detective Brian Calicchia, who handled Jeorge's case. According to Calicchia, protecting your property can be done by putting it in a trust or by putting several people on the deed (so that it will require multiple signatures for a sale), though it's noted that a lien or mortgage on the property can also make it less desirable for scammers as well.
The telltale signs
Real estate scams can be difficult to recognize if you don't know what you're looking for. Rocket Mortgage lists a few signs to be aware of, including:
Absence of the proper documents. According to Rocket Mortgage, some scammers will promise to send over documents (like a deed) only after the buyer sends money or financial information.

The pressure to act immediately. Whether it's the pressure to send money or personal information, scammers may "use a sense of scarcity" to make buyers believe that they could miss out on a property if they don't act fast.

Financial red flags. Rocket Mortgage notes that some scammers will demand that buyers wire them money directly, often claiming that the funds are a down payment or deposit. "This is not how the home buying process takes place and should serve as a warning sign."
Additional signs to look out for include listings with sparse information, misspellings, or grammatical errors, or listings that simply seem 'too good to be true.'
Avoiding real estate scams
When planning to buy an apartment in Los Angeles, there are several things that can be done to ensure you don't fall victim to a real estate scam.
Always go through a professional, reputable, and well-vetted realtor. Regardless as to where you're apartment hunting, a professional and local realtor is the way to go — especially if you're not from the area.

Do your research. When looking for an apartment or condo to purchase, doing thorough research regarding the property itself and the people involved can give you valuable insight as to whether the listing is too good to be true or not. Verifying the other party is always a good idea — searching the individuals online, asking others for referrals, and reviewing prior work can all help in ensuring you're not dealing with a scammer.

Be wary of online-only communication. If you're not located in Los Angeles, the internet can be a great resource for apartment hunting. However, it's imperative to be wary of email scams, those who refuse to meet in-person, give a tour of the listing, talk on the phone, etc.

Always ask questions. Never finalize or purchase a property without all of your questions answered. Not only will asking questions help verify information, but it can ensure that you have as much information about the property and the property buying process as possible.

Suspect a scam? Report it. Calling the Los Angeles County Sheriff's Department will ensure that complaints of real estate fraud are investigated.
Buying a property in Los Angeles can be an exciting endeavor. However, there are several real estate scams to watch out for, from those that involve the use of technology like email to those that involve scammers selling the property of another unsuspecting individual. By knowing the types of scams out there and the telltale signs that are commonly involved, you can effectively remain aware of the matter while ensuring you're only getting involved with legitimate opportunities.