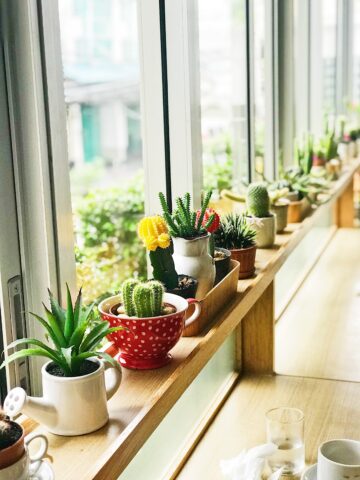 Easy Ways To Create An Eco Garden In Your LA Apartment
Gardening continues to be a huge trend in the US, and people living in California have the advantage when it come to this pastime as the state has milder climates, richer soils, and a large variety of plants. In fact, according to the USDA, California is the best state for gardening, especially for growing vegetables.
While most of the planting happens outdoors, there's a thriving community of indoor gardeners, particularly in LA, that are  investing time and money on this hobby since it enables them to reduce their carbon footprint. Though indoor gardening is already touted as a beneficial and sustainable pastime, there are numerous ways to make it even greener if you live in the City of Angels. Here are some easy ways to create an eco garden in your LA apartment.
Turn Your Balcony Into a Sustainable Oasis
If your LA apartment has a balcony, make the most of it by turning it into a green space. First, clean it and ensure that it's free of clutter, then put down some artificial turf on the floor. When compared to real grass, artificial turf requires almost no upkeep since you only have to clean it once in a while with water and eco-friendly cleaning agents. There's also no need to do pest control since fake grass doesn't attract pests, so there's no need to use pesticides which can harm the environment.
Next, put a couple of sun-loving plants in containers to create a lush sanctuary. Consider planting a Meyer lemon tree in a pot– not only do you get fresh fruit to add flavor to healthy dishes and juices, but lemon juice is also a good alternative to conventional cleaning products. Add potted bougainvillea, hibiscus, and birds of paradise for a burst of color. Once your plants are in place, add a comfy lounging area and a small table, and you've got the perfect spot for reading, listening to music, or having a cup of coffee in your apartment.
Choose Plants That Need Less Water
Selecting the right plants for your LA apartment can be challenging since not all plants will thrive if they're kept indoors. To prevent waste, only choose plants that are guaranteed to thrive in minimal sunlight, and pick ones that don't need a lot of water to conserve natural resources. Some plants that don't need much watering include the snake plant, ZZ plant, ponytail palm, begonia, rubber plant, pothos, cacti, and aloe vera. Most of these plants can survive up to a full month even if you don't water them, but to keep them healthy, plan on watering these indoor plants at least once every 15 days.
Select Easy-To-Grow Veggies For Container Gardening
Container gardening allows you to grow your own veggies inside your apartment. Not only will you have access to free fresh produce, but you'll also save on trips to the market or grocery store, and lower your carbon footprint at the same time. Choose easy-to-grow veggies for container gardening, such as Swiss chard, lettuce, carrots, beets, hot peppers, and onions, as well as herbs like parsley, mint, oregano, and thyme. Growing these plants enable you to harvest veggies in just a few weeks, but do make sure that your containers or planters are placed near a sunny window, or place them in the balcony.
Gardening is an enjoyable pastime that enables you to do your part for the environment in different ways. Consider these tips to make an eco-friendly garden in your LA apartment, and enjoy being surrounded by greenery in your city home.