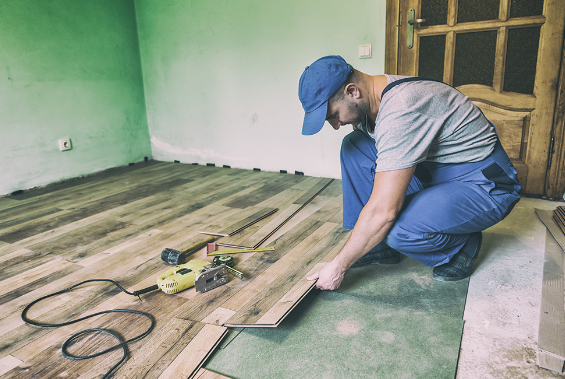 Most Los Angeles rental property landlords and property managers don't pay attention to their flooring. In fact, most of them concentrate on problems like plumbing and roofing. However, there comes a time when your rental property will need a new floor.
If you are wondering when to change your rental property flooring, this article will show you 7 ultimate signs that will let you know it is time to get new flooring for your rental property.
You Have Cracks in Your Flooring
This is the ultimate sign that you need new flooring. Cracks are a sign that your flooring is old and may need replacement. Once a crack appears, there is a big chance that it will be followed by multiple cracks.
Unfortunately, they are not something you can just mask and not easy to fix as well. Moreover, they constitute an eyesore and can turn into homes for insects and mites; you need to take action once you see cracks in your wall.
Your Floors Are Now Looking Ancient
Most tenants prefer floorings that look new and in trend. Moreover, in an ideal world, you need to change your flooring every ten years unless you are using concrete, stone or hardwoods.
Older floors don't impress tenants. Most tenants consider aesthetics and general look of the house an important part of their deciding factor when looking for a new rental property. Moreover, older floors are prone to crack and creak. Ensure you have a plan to change your flooring after ten years or when it looks old. This will help you to attract new tenants easily.
Ceiling Leak in the Unit Below
Another good sign to change your flooring is when there is a ceiling leak in the unit below yours. Usually, this is telling you that your subfloor needs to be replaced. You will need to take action as soon as possible before it leads to a major problem. In a similar way, if you discover upon inspection that your floors look visibly uneven, you will need to get new flooring.
Your Floor is Now Creaking
When your floor is creaking, it certainly means it is time to get new flooring. This is an indication you need to change your subfloor. However, you can't change subfloor without removing the flooring.
It is important that you know that a rotting subfloor will definitely spread. This means you need to fix this problem as soon as you discover it. Moreover, when you routinely update your flooring, you will have an opportunity to examine your subfloor before it becomes a problem.
Your Flooring is Now Discolored with Dark Spot
Water damage constitutes a serious problem. It leads to other problems such as mold infestation. This problem is common when you have wood flooring in place.
You will need to tackle this problem as soon as possible. Water damage is not something you can keep postponing. It doesn't look good and can lead to mold problem just within 48 hours after water damage your flooring. Molds are known to spread rapidly. When this happens, you will have to get the help of professional mold services to tackle this problem which means additional cost.
Your Grout Doesn't Look Clean Again
If there is one thing you should know – it is that tenants don't often clean as thoroughly as they should. You can only be able to maintain your grout if the floors are kept clean. There is a high chance of having dirt still sticking to the grout even with routine cleaning. Your grout will become permanently discolored when dirt piles on it.
You may use cleaners in the initial stages to tackle this problem. However, you will definitely need to make changes to your floor as it ages.
You Decided To Increase The Value of Your Rental Property
If you are looking forward to adding value to your rental property, one place you must seriously consider is your flooring. It makes sense to invest in new flooring for your rental property.
New flooring will always get the attention of potential tenants and help you attract renters. Moreover, you can always increase your rent after updating your flooring.