Adjustments Tenants Can Make in a Rental Without Damaging It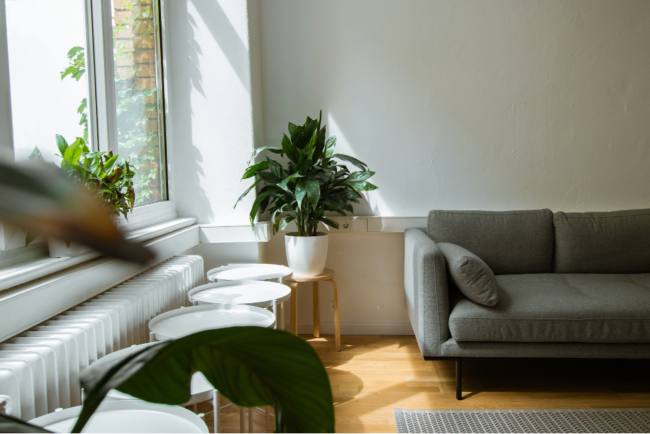 If you're currently living inside a rental, there's a chance you've wondered what kind of home-remodeling adjustments you can make without damaging it. Also, you're probably considering what upgrades you can make without compromising the rental agreement. You'll need to check the contract. Today, we'll focus on the first issue we've mentioned – the adjustments tenants can make in a rental without damaging it. You'll have a chance to consider your options. Stay tuned for some valuable tips & info!
#1 Create a garden with potted plants
This one goes without saying. Creating a little garden in your yard or on the balcony with potted plants is an adjustment everyone loves. Green rests the eyes and enhances our overall well-being. Also, if you've made yourself a home office (and that shouldn't be a surprise when we consider the contemporary situation on the job market), you'll want to know that plants boost productivity, as numerous studies have shown. Not to mention that you'll make "your" rental more eco-friendly. Here's the best thing about making a neat garden out of potted plants – it requires no drilling or similar work that can compromise the structure of the rental. Therefore, you're practically just gathering the pots, only to pack them later when you're moving out and take them with you.
#2 Giving the walls a fresh start
As a tenant, you'll need to ask for permission before you do any painting. However, even if you get approval, you'll still need to do this in a professional manner. If you're not so experienced in this type of housework, it's best you leave it to the experts; tell us the experts at rockstarpromovers.com. Anyway, if you're going DIY, you'll need to be very careful not to paint over any items inside the rental that came with the apartment. To ensure that this doesn't happen, simply cover them in nylon, or talk to your landlord about moving the stuff to a storage facility until the work's done.
#3 New curtains, anyone?
That's right, you're able to do away with the curtains you've always fantasized about removing. That's right; you can do away with the curtains you've always fantasized about removing. However, you're not supposed to throw them into the trash. You'll need to keep them since they're not precisely your property. Anyway, installing new curtains is definitely something tenants can do without damaging the rental or asking for the owner's permission. Lastly, you'd be surprised once you discover how a new set of curtains can give your living quarters a fresh & original look. All in all: this is one of the most apparent feel-good, budget-friendly decor tips you can stumble upon. Try it out!
#4 The installment of a wireless doorbell
Are you sick & tired of the sound your doorbell makes each time someone pays you a visit? If so, you should know that installing a wireless doorbell is something you can do without asking for the landlord's permission. However, if you want to remove the old one, you're going to need to ask for their opinion and approval. Otherwise, you can simply cover the old one with assistance from some paper and tape.
#5 Opt for a so-called statement rug
Now, there's a fair chance that you're not so enchanted by your rental's flooring. If you've got dull carpeting or cheap linoleum flooring, the aforementioned chances advance greatly towards the sky (excuse the corny excursion into poetry). So, what's there to be done about dull flooring? Here's our suggestion: opt for a so-called statement rug. It will give your place a new image without doing anything to the floor. In other words, it will keep it intact. You'll want to find a rug that somehow incorporates your favorite patterns and color schemes. That way, the statement rug will live up to its name. Lastly, try to avoid the common mistake folks make: buying a rug that's too small. Consider the room size (the space you've got) and the furniture layout when choosing the size of your new (statement) rug. If you're unsure, always opt for a larger one.
#6 Hang artwork (without nails)
Yup, you've heard us right – you're able to hang artwork with the use of nails. Oh, and it's not just artwork we're talking about. You can hang family photos, unique wall decor, and whatnot. Your main objective is to give the space a personalized look. It will feel more homely, trust us. Anyway, you should opt for the so-called damage-free picture hanging strips and easily-removable tape to place your favorite artwork or photos or whatever on the walls of the rental. There's simply no need to create a deposit-busting hole in your rental's paintwork. Now, if there are already some that you're able to exploit, go for it. You should know this tip even before you move into a rental apartment. Needless to say, you should know everything in advance. Just so you're able to plan everything out in a proper manner.
#7 Install LED lightbulbs
If you want to do some damage to your energy bills without damaging the apartment you're renting; it might be a good idea to install LED lightbulbs wherever possible. Also, regarding LED lighting and everything, you can install a super-long strip of stick-on LED lights underneath your kitchen cabinets. These usually cost about twenty dollars and are very easy to install. It sounds like a small change, but it's bound to make your kitchen look fresh.
#8 Buy multifunctional furniture
Last but not least, on our list of adjustments tenants can make in a rental without damaging it, let's talk about multifunctional furniture. Did you know that multifunctional furniture can save you both money & space? Also, it can help you transform a single room into many different functions. Therefore, it won't hurt you to invest some funds in nice-looking furniture that's supposed to adapt to your needs. For instance, you can opt for a multifunctional table that serves as a work corner and a dining area in the evening. Now, if you feel like you're tight on space, you'll want to think about stackable furniture, furniture that can fold away, or furniture one can store easily (just like stackable chairs, for instance).
Closing words
Okay, folks, so that's about it when it comes to adjustments tenants can make in a rental without damaging it. Now you're well aware of all the small changes that might turn out to be major. All in all: there are many ways you personalize the space inside the apartment you're renting, and we're sure that you'll give the ones we've shared with you today an honest try.