The Future of Roofing: Innovations in Materials and Techniques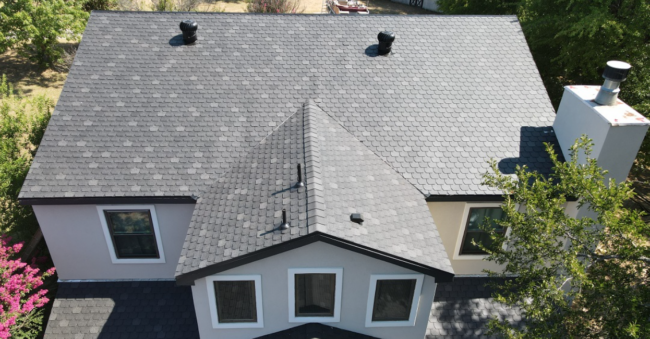 The evolution of the roofing industry is a testament to human adaptability and the pursuit of progress. From the earliest shelters crafted from natural materials to the architectural marvels of today, roofing has always been a reflection of the times. As we transition into an era marked by rapid technological advancements and environmental consciousness, the innovations in roofing are not merely about protection from the elements. They symbolize a broader commitment to sustainability and efficiency.
Solar-Integrated Roofing
The marriage of solar technology with traditional roofing represents one of the most significant shifts in modern construction. No longer are solar panels mere appendages to a building's structure; they have become an intrinsic part of the roofing landscape. Solar-integrated roofing is a harmonious blend of the protective attributes of a roof with the energy-generating potential of solar cells.
This seamless integration eliminates the aesthetic and structural challenges posed by conventional solar installations. Properties equipped with solar-integrated roofs can harness the sun's energy more efficiently, leading to substantial reductions in energy bills. Beyond the immediate financial benefits, these roofs play a pivotal role in reducing a building's carbon footprint, aligning with global efforts to combat climate change. Notable examples like the Tesla Solar Roof and Forward Labs' design have set industry benchmarks, demonstrating the potential of this innovation.
Advances in Roofing Material Technology
The relentless quest for superior roofing materials has birthed innovations that challenge and expand our traditional notions. One such breakthrough is the emergence of bio-based materials. Derived from renewable resources such as plants, these materials offer an eco-friendly alternative to conventional roofing options. Shingles crafted from recycled wood and paper waste, when treated with natural resins, combine durability with environmental stewardship.
In urban landscapes, where the heat island effect is a growing concern, the advent of cool roofing materials offers a respite. These innovative materials, designed to reflect sunlight and absorb minimal heat, can significantly mitigate the need for air conditioning, leading to tangible energy savings. The market now boasts products like reflective shingles or tiles treated with special pigments that deflect infrared radiation, marking a significant stride in urban sustainability.
The realm of material science has also introduced us to the concept of self-healing roofing materials. These cutting-edge materials are embedded with microcapsules containing a healing agent. When the material sustains minor damages, these capsules release the agent, effectively "healing" the material under specific conditions such as sunlight or summer heat.
Lastly, the balance between durability and weight has always been a challenge in roofing. However, the development of lightweight yet durable composites has revolutionized this dynamic. These innovative materials, often a fusion of natural and synthetic elements, ensure longevity without imposing undue structural weight, making them a preferred choice for modern constructions.
AI and Machine Learning in Roofing
The digital revolution has left no stone unturned, and the roofing industry is no exception. Artificial Intelligence (AI) and Machine Learning are ushering in a new era of predictive analytics for roofing wear and tear. By analyzing vast datasets from various properties, these technologies can forecast potential issues, allowing for timely interventions and maintenance.
Beyond predictive capabilities, the integration of AI with drone technology is transforming roof inspections. Drones equipped with advanced sensors can capture detailed images of rooftops, which AI algorithms then analyze to detect anomalies, damages, or potential areas of concern. This synergy of AI and drone tech not only enhances the accuracy of inspections but also significantly reduces the time and resources traditionally required.
Furthermore, machine learning algorithms are playing a pivotal role in refining roofing designs and installation techniques. By processing historical data on roofing performance, weather patterns, and material longevity, these algorithms can recommend optimal roofing solutions tailored to specific geographic and climatic conditions.
3D Printing and Roofing
3D printing, once a niche technology, is now at the forefront of construction innovation, and roofing is a beneficiary of this progress. The ability to create custom roofing components on-demand is revolutionizing the industry. Whether it's intricate designs for aesthetic appeal or specific components for unique architectural challenges, 3D printing offers unparalleled flexibility.
The benefits extend beyond customization. 3D printing reduces production waste, ensuring that materials are used efficiently. Moreover, the speed of production means that roofing components can be manufactured and installed in a fraction of the time traditionally required, accelerating construction timelines.
Real-world applications of 3D printing in roofing are already evident. From bespoke tiles that match historical architectures to innovative drainage systems optimized for specific rainfall patterns, the possibilities are vast and continually expanding.
Sustainability and Eco-Friendly Roofing Solutions
In an age where environmental consciousness is paramount, the roofing industry is rising to the challenge. The push for sustainable roofing solutions is more than a trend; it's a necessary evolution. Green roofs, characterized by vegetation layers planted over a waterproofing system, are becoming increasingly popular in urban settings. These living roofs not only enhance a building's insulation but also contribute to biodiversity, air purification, and urban heat reduction.
Moreover, the integration of rainwater harvesting systems into roofing designs is a testament to the industry's commitment to sustainability. By capturing and storing rainwater, these systems reduce the demand on municipal water supplies, promoting water conservation and reducing utility costs.
Challenges and Considerations
While the future of roofing is undeniably exciting, it's not without challenges. The initial costs associated with adopting some of the latest technologies can be prohibitive for many property owners. There's also the need for specialized training and skills to install and maintain these advanced roofing systems, which can pose workforce challenges.
Even with the most advanced roofing techniques, unexpected issues can arise. For instance, new roofs, despite being freshly installed, can sometimes experience leaks. Understanding the reasons behind why new roofs might leak and how to address these concerns is important, regardless of the type of roof you may have.
Furthermore, as with any industry experiencing rapid innovation, there's potential skepticism and resistance to change. Traditionalists may be wary of new materials or techniques, questioning their longevity or reliability compared to tried-and-tested methods.
Conclusion
The roofing industry is changing rapidly. The combination of new tech and a focus on sustainability is bringing a dynamic and promising future for roofing possibilities. As property managers, architects, and homeowners navigate this evolving landscape, it will be important for all stakeholders to embrace and refine these innovations.