Firing Up The Grill? Here's How To Barbecue Safely From Your Apartment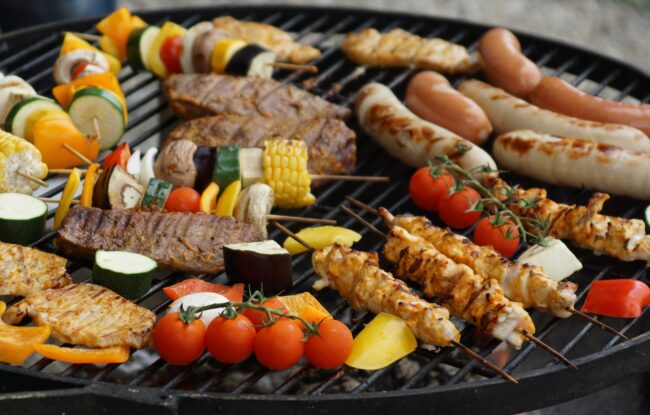 The history of barbecue in LA is rich and varied. "In the past decade or so, much of LA's barbecue scene […] has become intertwined with the look and flavors of smoked meat found in the Lone Star State", Eater reports. And, as the weather warms up, you may be wondering how you can fire up the grill and enjoy these taste sensations from the comfort of your LA apartment. By being smart and taking some sensible precautions, you can become a pro at apartment complex grilling.
Check with your landlord
Before you fire up the grill, check it's allowed by your landlord first. Look over your signed lease agreement, and if grilling isn't mentioned, ask your landlord in person. It's best to have clear permission rather than simply assume it's okay (otherwise, you may risk being hit with a fine). Keep in mind, it's common for HOA's and condo associations to have specific rules and regulations concerning grilling. For example, you may not be allowed to grill on your balcony or in communal areas. If your landlord doesn't allow grilling, all may not be lost: some apartment complexes include grills in their communal outdoor areas available for everyone to use.
Choose the right type of grill
When it comes to choosing the right grill for your space, be sure to take size into account. You don't want a huge thing that takes up every square inch of precious space on your balcony or patio. Although gas, charcoal, and electric grills are popular options, a pellet smoker can also be a smart investment that spices up your food – think of it as "all in one" outdoor cooker that works as a BBQ smoker, gas grill, and kitchen oven combined. This type of smoker uses indirect heat to burn wood pellets and cook food at either low or high temperatures. In addition to tasty smoked meat, fish, and vegetables, pellet smokers can also cook flavorful pizzas. Pellet smokers lend pizza a rich and unique flavor, while also being cleverly designed to prevent over-smoking.
Prioritize safety
Your grill should be placed in an open area to minimize fire risk. In fact, if your landlord allows grills on the balcony or patio, they may also specify how far you need to keep it from the building. Never keep your grill close to flammable materials – this can be anything easily prone to catching fire, such as, furniture, hanging baskets, or structures on your balcony like wooden screens or columns. Similarly, be mindful of things like loose clothing and apron ties when using your grill, as these can also be potential fire hazards. An area with good ventilation is also essential to prevent unhealthy smoke and carbon monoxide accumulation.
There's no reason why you shouldn't get to enjoy grilling season from your LA apartment. By getting permission from your landlord, choosing the right type of grill, and prioritizing safety, you can successfully master the art of apartment complex grilling.