Creating Ideal Storage Conditions for Wine in Your Apartment
Whether you enjoy drinking everyday whites or collecting vintage bottles of red, you no longer need a large, dusty, cellar for storage as wine can easily be kept or displayed in ideal conditions even in a small apartment. Storing certain wines at the correct temperature might sometimes be an issue in the warm Los Angeles climate, but controlled refrigerated units  ensure wines remain perfectly chilled. And while some larger state-of-the-art display units are permanently integrated into the remodeling of a room, portable wine racks and coolers can easily be added to the interior design of a rental without the need for permanent alterations.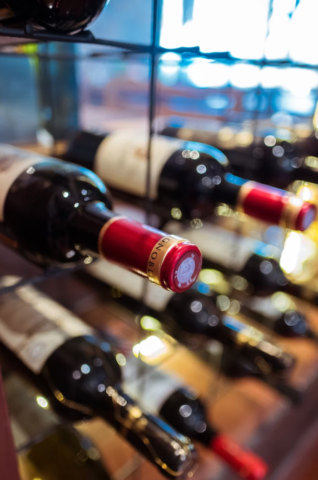 Controlling Temperature and Humidity
Wine is sensitive to humidity and temperature and red wine in particular can be badly damaged by exposure to heat over 70˚F. At very high temperatures, wine starts to oxidize and will lose color and flavor, eventually turning into vinegar. The ideal temperature for aging premium wine is between 53˚F and 57˚F, but a wider temperature range of between 45˚F and 65˚F is fine for storing wine for more immediate consumption.  One of the easiest ways to keep wine at an appropriate constant temperature is to install specialized cooler units.  These may be large integrated cabinets where vintage wine can be attractively displayed or compact coolers that provide the optimum environment for keeping wine ready for drinking.
Finding Smaller Storage Solutions
In addition to keeping your wine at the perfect temperature, a countertop wine cooler doesn't take up too much room. Other compact storage solutions for six or eight bottles include stackable wine holders and folding racks.  Where floor space is an issue, attractive wall-mounted wine racks free up surfaces as well as enhancing the decor of an apartment.  If you need to keep wine away from direct sunlight, you could lie bottles on a cupboard shelf or  or even store bottles flat under a bed.
Providing the Right Conditions for Aging Wine
While these storage solutions might be convenient, you will need to think more carefully about where to place your wine if you are investing in bottles for longer-term aging. It's advisable to place them away from high-traffic areas in your apartment as even very small vibrations can affect the flavor of the wine.  Over a period of 18 months, movement has been shown to accelerate aging, reduce certain acids and increase the sweetness of red wine.
Making Use of Wine Storage Facilities
If you have a very large number of wines or any of particular value, there are several companies in LA that offer convenient options for storing your wine away from your apartment. Whether you require a small locker to hold 12 cases or a large walk-in room where over 200 cases can be stored, secure cellars offer advanced cooling systems to manage temperature and humidity and security systems to ensure your valuable collection remains safe.
With a range of storage solutions, it's easy to collect and display vintage bottles in your apartment, while at the same time keeping everyday wines at the optimal conditions for drinking.