Easy-to-Implement Interior Design Styles for Small Apartments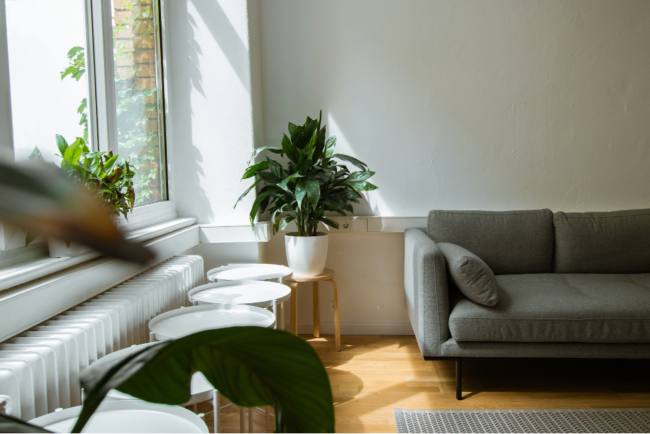 Small apartments often present challenges when it comes to interior design. The limited space requires creativity and ingenuity to make the most out of every square inch, ensuring both functionality and style. Additionally, renting an apartment adds another layer of complexity to interior design, since renters may have restrictions that limit their ability to make significant alterations to the apartment's structure or design, such as painting walls or changing flooring. 
However, with smart planning and the use of easily reversible and non-invasive design elements, renters can still personalize their spaces and implement stylish design themes that reflect their preferences and lifestyles. Below are some easy-to-implement interior design styles suitable for small apartments that maximize space, function, and style without jeopardizing the terms of a lease.
1. Scandinavian Style
Scandinavian design emphasizes simplicity, functionality, and a connection to nature. Opt for light colors, minimalist furniture, and natural materials such as wood and stone. Maximize natural light by keeping window areas unobstructed and add warmth with cozy textiles and indoor plants.
Key Elements:
Light color palettes

Functional furniture

Natural materials

Minimalist decor
2. Industrial Style
Industrial style is characterized by exposed architectural elements such as brick walls and metal beams, and functional, unpretentious decor. It is ideal for open-plan apartments, where the living, dining, and kitchen areas are merged. Select statement pieces made of raw materials like metal, wood, and leather to bring this style to life.
Key Elements:
Exposed architectural elements

Raw materials

Neutral color scheme

Open-plan layout
3. Bohemian Style
Bohemian design is perfect for those who love to bring an eclectic, world-traveled aesthetic into their living spaces. Incorporate vibrant colors, ethnic patterns, second-hand furniture, and an abundance of plants to achieve this laid-back style.
Key Elements:
Vibrant colors

Ethnic patterns

Mixed-and-matched furniture

Plant life
4. Minimalist Style
Minimalism is ideal for small spaces as it emphasizes the "less is more" philosophy. Choose furnishings with clean lines and neutral colors and keep decor to a minimum. Each item in the space should be functional and purposeful, reducing clutter and creating an open, airy feel.
Key Elements:
Minimal furniture

Neutral color palette

Functional items

Clean lines
5. Contemporary Style
Contemporary is an ever-evolving style, but it typically involves clean lines, subtle sophistication, and a muted palette complemented by pops of color. Choose sleek, modern furniture and avoid clutter, to maintain a fresh and open feel in your apartment.
Key Elements:
Sleek, modern furniture

Muted color palette with pops of color

Minimal decor

Clean lines
Practical Tips for Small Rental Apartments
For renters, it's very important to focus on non-permanent changes that can be easily undone when it's time to move out. Go for removable wallpaper or wall decals to add personality to your walls without the commitment of paint. 
Similarly, invest in temporary flooring solutions like rugs or vinyl floor tiles to cover unattractive flooring without making permanent changes. Use tension rods or over-the-door hooks to create additional storage without drilling holes in the walls and choose lighting solutions like floor or table lamps rather than hardwired light fixtures. 
Remember to communicate with your landlord or property manager and understand your lease agreement to ensure that your decor choices do not violate any terms. Below are some additional tips you can incorporate that will make your apartment feel larger:
Maximize Space
Use multi-functional furniture: Opt for furniture that serves multiple purposes, such as a sofa bed or an ottoman with storage.

Utilize vertical space: Use wall-mounted shelves, hooks, and racks to keep items off the floor and create

additional storage

.
Enhance Light
Use mirrors: Place mirrors strategically to reflect light and make the space feel larger.

Opt for light colors: Light colors make spaces feel airy and open, making the apartment appear larger.
Reduce Clutter
Prioritize storage: Ensure every item has a designated storage space to avoid clutter.

Keep it minimal: Avoid overcrowding the space with excessive decor or furniture.
By implementing these design styles and practical tips, you can completely change the feel and appearance of a small apartment, turning it into a space that is not only stylish and trendy but also functional. Tailor these styles to your preferences, and don't be afraid to mix and match elements from different styles to create a unique, personalized space. 
Remember, your apartment is the place you return to day after day, and it should feel homey and cozy. This is where you relax and recharge. Don't feel pressured to get it right from the beginning. The design of an apartment is fluid, and after living there for a while you will figure out what works and what you need to change, and you can work on that one step at a time.