The Skin Care Room Is All The Rage – Here's How To Build One In Your LA Apartment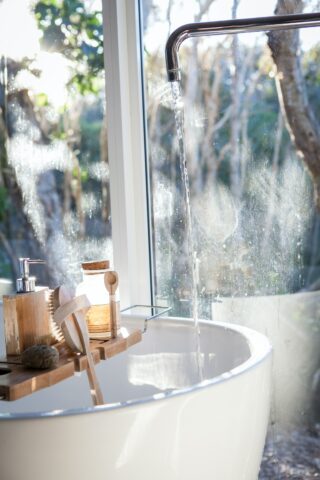 When it comes to creating the perfect home, most LA homeowners try to incorporate luxurious design features that would enhance their overall wellness. This is why around 23% of Los Angeles homes have a swimming pool, while most luxury apartments are equipped with a state-of-the-art gym that's exclusive to residents. Now, a new interior design trend has emerged that will encourage people to spend more time on their skincare routine.
In the coming months, it is expected that a skincare room is about to become a must-have for beauty aficionados and those who love to collect skincare products from all over the world. If you're a fan of skincare and you want to have a dedicated space for all your creams, serums, sheet masks, and other essentials, here's how to create a skincare room in your LA apartment.
Keep it Clean and Simple
Your skincare or esthetics room should have the same vibe as an aesthetician's office, so keep your decor clean, simple, and classy. You can have all-white walls, but if that's too stark for you, dress them up with some neutral artwork, or cover just one wall with some vintage wallpaper. You'll also need a large mirror so you can evenly apply products on your skin. Next, install clear glass shelves or floating bookshelves to display your prettiest products. You can also have white display shelves in your skincare room if you need more space for your items.
Display your products in such a way that it mimics the look of a skincare boutique. For instance, one shelf can hold products from a private label, while you can use another shelf for your designer brand products. Meanwhile, anything else that doesn't need to be displayed can be placed inside drawers to keep your space looking neat and tidy. Add a rug, some green plants, and a chair so you can do your skincare routine comfortably. It's important to choose a reclining chair so you can lay back while doing certain steps in your skincare routine, such as a sheet or mud mask treatment.
Create a Skincare Station
If you don't have space for a dedicated skincare room, why not create a skincare station in your bedroom or walk-in closet? These areas are ideal since skincare products need to be stored in a cool and dry place, and you'll only need a few items for your skincare nook. A white utility cart with wheels can hold all of your everyday products, then put everything else in a slim drawer cabinet so it won't eat up too much space in your room.
Light it Up
Once everything is in place, enhance your skincare room or station with good lighting. Ideally, your room should have a window that lets in plenty of sunlight so you can do your skincare and makeup routine in natural light. Make sure to hang some blackout drapes so that you can block out the sun after doing your skincare– remember that sunlight can cause your products to deteriorate, so protect them as much as you can. If your room doesn't have a window, use white light since that's the closest to natural sunlight and it enables you to see your true skin tone. However, avoid florescent lighting since that can be overly bright and unforgiving. Steer clear of florescent bulbs, especially if you're the type to pick at barely noticeable spots on your skin.
Having a skincare room allows you to have a place in your apartment where you can relax and properly pamper your skin. Consider these tips to create a skincare room in your home, and make sure to protect your products from sunlight and humidity so that they'll work well to keep your skin looking fresh and healthy.