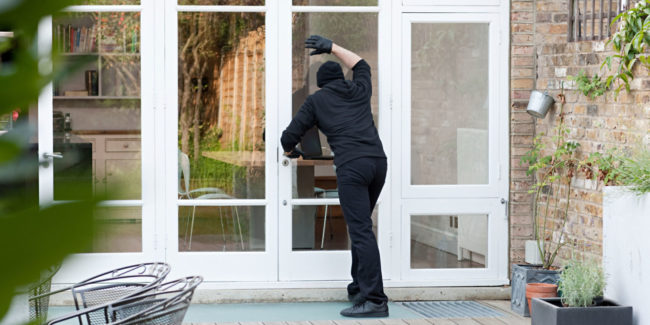 One of the most dreaded phone calls is having a tenant call to tell you that his home has been burglarized. Truly, no San Fernando Valley landlord or property agents want this on his rental property. More importantly, in Los Angeles no tenant wants to be a victim of a burglar. Some of these incidents can leave a tenant with a trauma. In fact, tenants are likely to avoid any rental property or area that is notorious with burglars.
As a tenant, coming home to see that your home has been broken into can be one of the most traumatic experience the person will have. When burglars break into a home, not only will they take valuable properties but also end up making the victim live in fear of being violated again. It is your duty as a landlord or property manager to take necessary steps in order to ensure the safety of your rental property as well as that of your tenants. Teach your tenants basic security measures to keep them safe. Make sure that your tenant's welcome package contains a document detailing various security measures they should be taking in order to keep their homes safe.
However, it is well-known that despite your best efforts, you can still end up being a victim of burglars. When you found yourself in this situation, you can take the steps recommended below:
Leave the House and Call 911
Once you suspect that your home has been burglarized, make sure that you don't touch anything. Doing so can alter the evidence. Instead, leave the house immediately and call 911. You need to stay away from the scene at least until the police arrive. This is the only way to protect you and any evidence left behind by the burglar.
Talk To Your Neighbors
Your neighbors may have noticed some unusual movement or people on your rental property. Ask them if they saw anyone suspicious. More importantly, let them know that a vandal is on the loose so they can take necessary steps to protect themselves.
Review the Security Camera
If you have a security camera installed on the rental property, police will definitely request to review them. Reviewing the security camera will help you to identify the burglar that violated your home.
Give Your Insurance Company a Call
I believe you have homeowners insurance if you are a landlord and your tenant has renters insurance. Call your insurance company as soon as possible. Tell them you have been burglarized, they may need to send someone to your location to verify your claim. In a similar way, make sure you take pictures and keep them with you as evidence.
Search Local Pawn Shops
If you have a valuable item you think may turn up in pawn shops and you have some free time, a good way to recover your item is by searching various local pawn shops. Most burglars usually sell their loot in a pawn shop. As far as you have a receipt, a pawn shop owner will gladly return the property to you to avoid problems with the cops.
Search Local Online Classifieds
Nowadays, most people in Los Angeles sell the items they stole on online classifieds. It is possible that your stolen item may show up on Craigslist.com and other classifieds. When you see them listed on such websites, don't go and confront the seller. Instead, call the police and they will take it up from there.
Move On And Improve Your Security
There is always emotional trauma associated with being a victim of burglars. However, you should try your best to move on from this incident. As a landlord or property manager, you need to be sympathetic to your tenants. One way to reassure them that your rental property is still safe for them is by improving your home security. Home security can always be improved. You can change new locks, invest in a security camera and other home security apparatus. This will once again boost the morale and confidence of your tenants on the safety of your rental property.