Analyzing and understanding each property's average monthly utility consumption is critical. These important costs need to be monitored, so that spikes in utility charges can be spotted quickly.  Disputes won't be favorably resolved when they're months old.  Recognition and action must be swift.
Once found, utility bill increases must be investigated, either for waste being committed by a tenant (i.e. leaky faucet, running toilet), leaks underground, or malfunctioning meters.  Inspections, leak detectors, and other types of analysis need to be employed now in order to rectify the situation.
In a recent case, we spotted a spike in natural gas at a 67-unit building, master-metered for this utility.  No leaks were found on the owners side of the meter, so the next step was to challenge the meter's calibration.  By presenting proper documentation we were able to elevate the need for resolution fast.  An actual laboratory test was conducted.  In this case, the culprit was a poorly calibrated meter.  Sure enough, a $9,100 credit was issued to the owner.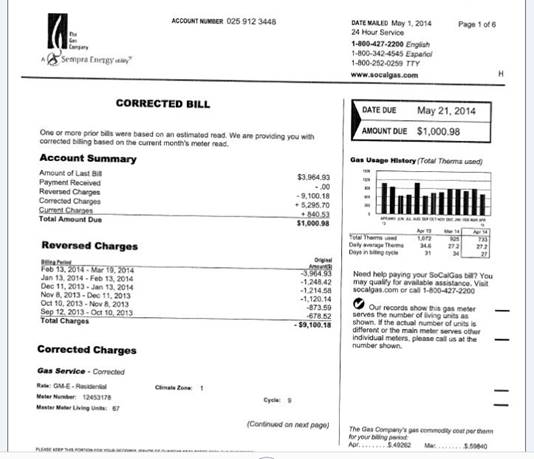 Do you know what your average costs are?  Make sure nobody is asleep at the wheel here.  Some utilities have a graph that shows usage from one month to the next, and this is the quickest and easiest route to spotting discrepancies.  From then on, there's a bit of 'fighting city hall', but when you know your facts, and present your argument concisely, you will be heard.
Article by Aymen Ayouni, Accounting Supervisor, Los Angeles Property Management Group. To contact him, call (323)255-9400 ext.225.