Last year one client brought us 9 buildings with nearly 300 units. We immediately set to work to improve the management onsite, and maintenance of this portfolio. In just three weeks, these improvements – coupled with aggressive marketing of vacant units – paid off handsomely for the owner.
The day we took on management, the portfolio had 13 vacancies. Three weeks after turning management over to L.A. Property Management Group, they had just one vacancy. Later in the year, we had every unit filled – zero vacancies. And we were renting the units at the very highest rate they'd been rented at. And again, this year we attained 100% occupancy for the second time. Slashing vacancies by 80% over the previous management company, this owner now averages $13,000 to $19,500 more in rent collected each and every month. Rents are higher, and unit turns are quicker. We understand that change isn't easy. But just ask this owner if it was worth it. Come visit us and we'll show you all the documentation from this case study.
Client received a refund of $9,100 back from a utility company.
Our accounting staff regularly monitors your utility costs. After seeing an irregularity on a gas bill for a building that is master-metered for gas, we challenged The Gas Co, and they took their meter to a laboratory to be calibrated. The result, shown below, was a $9,100 credit to the client.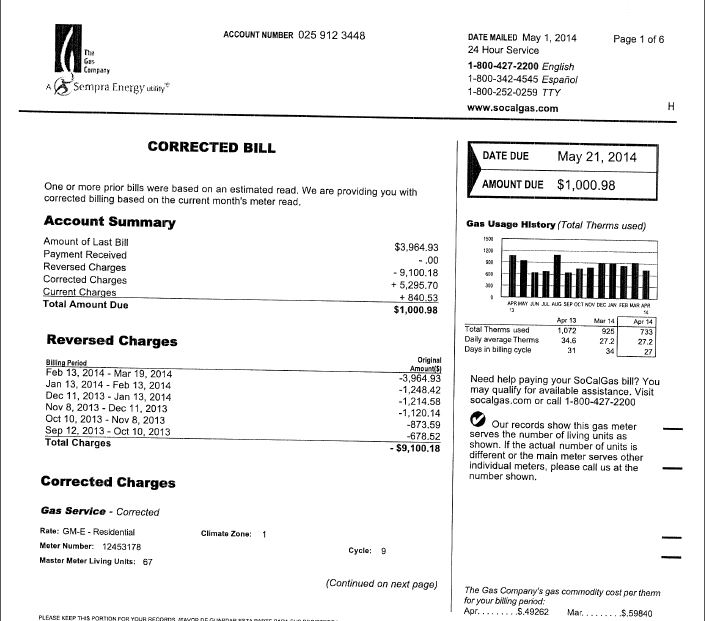 Client received a year of rent just three weeks after meeting us for the first time.
After leaving their previous property manager because of a difficult and expensive eviction, this couple chose LAPMG to manage their duplex. We marketed the property well, held open houses, and the result was a year's payment – up front – at a price the owner never thought possible. This cashier's check was deposited into their bank account just 3 weeks after meeting us for the first time.