Avoiding the Pitfalls: Common Mistakes People Make When Staging a Home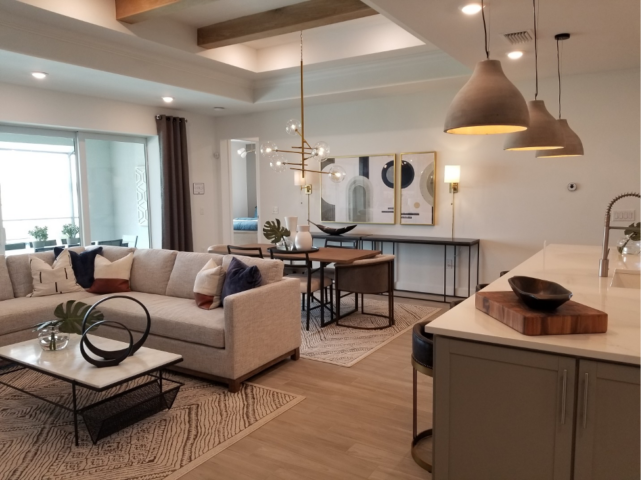 Introduction
Staging a home is a powerful tool for enticing potential buyers and maximizing its selling potential. When done right, staging can transform a property into a desirable and welcoming space, leading to a quicker sale and potentially a higher selling price. However, as with any process, there are common mistakes that people make when staging a home that can undermine its effectiveness. In this blog post, we will explore these pitfalls and provide valuable tips on how to avoid them, ensuring a successful home staging that leaves a lasting impression on potential buyers.
Over Personalizing the Space
One of the most prevalent mistakes in home staging is over personalizing the space. While adding personal touches can make a home feel warm and inviting, going overboard with family photos, unique decor, or eccentric color schemes can distract potential buyers. The goal of staging is to create a neutral and universally appealing environment that allows buyers to envision themselves living in the home. Instead of showcasing your personal style, focus on creating a blank canvas that allows buyers to see the home's full potential.
Neglecting Curb Appeal
First impressions matter, and the exterior of your home is the first thing potential buyers will see. Neglecting curb appeal is a major mistake that can turn off potential buyers before they even step inside. Ensure that the exterior is well-maintained, with a freshly manicured lawn, trimmed bushes, and a clean and inviting entryway. Invest in a fresh coat of paint for the front door and consider adding potted plants or flowers to add a touch of color and charm.
Clutter and Disorganization
Clutter can be a significant deterrent for potential buyers. A cluttered and disorganized home can make spaces feel smaller and create a sense of chaos. According to this Tacoma property management company before staging, declutter each room, removing unnecessary items and organizing storage spaces. Keep countertops and surfaces clear, allowing the home's natural features to shine. A clutter-free environment allows potential buyers to focus on the home's features and envision how they can use the space.
Ignoring Repairs and Maintenance
It's essential to address any necessary repairs and maintenance before staging a home. Leaving visible issues unattended, such as leaky faucets, chipped paint, or broken light fixtures, can give the impression that the property is poorly cared for or has hidden problems. Ensure that everything is in good working condition and make necessary repairs to create a positive impression on potential buyers.
Overlooking Proper Lighting
Lighting plays a crucial role in the ambiance of a home. A well-lit space feels welcoming and spacious, while dim or poorly lit areas can feel gloomy and uninviting. Natural light is highly desirable, so maximize it by removing heavy curtains or blinds that block sunlight. Additionally, consider adding floor or table lamps to brighten darker corners and create a cozy atmosphere.
Neglecting Neutral Paint Colors
While bold and vibrant paint colors may reflect your personal style, they can be polarizing for potential buyers. Neutral paint colors appeal to a broader audience, as they provide a blank canvas for buyers to envision their preferred decor and furniture. Consider repainting walls in soft and neutral tones like whites, beiges, or grays, which create a fresh and timeless look.
Inadequate Furniture Placement
Improper furniture placement can disrupt the flow and functionality of a space. Avoid pushing furniture against walls or overcrowding rooms, as this can make rooms appear smaller than they are. Instead, arrange furniture in a way that creates natural pathways and highlights the best features of each room. Consider hiring a professional stager if you're unsure about the best layout for your home.
Failing to Depersonalize Personal Spaces
While staging living areas and common spaces is crucial, don't forget about personal spaces like bedrooms and bathrooms. Depersonalize these areas as well by removing personal items and adding neutral bedding, towels, and decor. Potential buyers need to see these spaces as relaxing and functional retreats, and depersonalizing them helps achieve that effect.
Conclusion
Home staging is a powerful tool for making a lasting impression on potential buyers and expediting the selling process. By avoiding common staging mistakes like over personalization, neglecting curb appeal, clutter, and inadequate lighting, you can present your home in the best possible light. Prioritize repairs and maintenance, choose neutral paint colors, and ensure proper furniture placement to showcase the property's full potential. Remember that the goal is to create a welcoming and universally appealing environment that allows buyers to envision themselves living in the space. With these tips, you'll be well on your way to a successful home staging that draws in potential buyers and helps you secure a quick and profitable sale.
If you haven't hired a property manager already, click here to learn more about our services and how an experienced property manager can share some of your burdens.